Recover reliably from secure off-site backup.
Offsite backup is a must for your sensitive data and applications. To protect your company and your data, Your offsite backup solution should be monitored daily. We offer backup and peace of mind, so you sleep well knowing you're covered.
Our backup is encrypted according to NIST standards, enterprise-class offsite backup and recovery solution provides the ultimate protection. You have the option to restore data and applications directly to your own infrastructure
Backed by our commitment to in-depth, defensive security and high-availability infrastructure, you'll sleep well knowing your data is protected and available when you need it.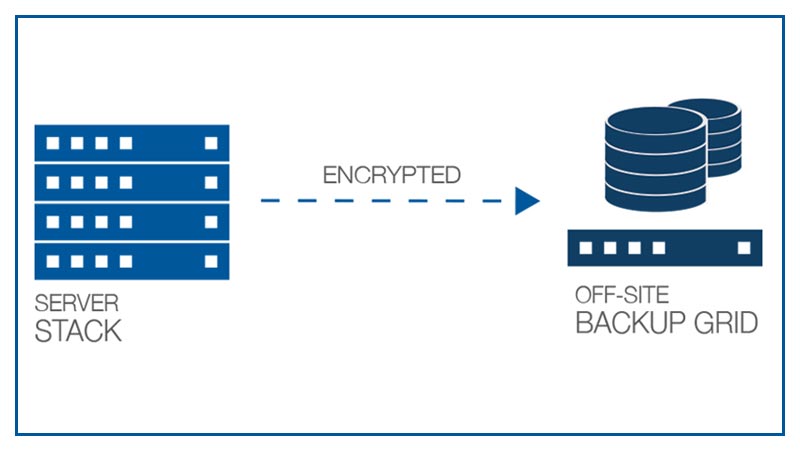 NEED HELP PLANNING OR DEPLOYING A DATA PROTECTION PLAN?
Offsite backup and recovery key features
File-level restoration:
Most backup needs relate to specific files. If you only have snapshots for a backup, recovering a single file means restoring an entire server. We let you recover files as needed, as a self-serve or with our assistance.
Offsite backup:
Service disruptions often affect an entire data center. You can't protect data unless it is remote and offsite. Your data is stored securely at our Data Center where we can access your data immediately in the event of an emergency.  We can also ship your data overnight a copy of your data by request.
End-to-end encryption:
We'll never expose your sensitive data. From initial encryption at the source, during transit through our private fiber network, to encryption-at-rest in the backup grid, your sensitive information is always protected.  Your data will meet or exceed HIPAA/HITECH standards.
Restoration options:
In the event of a disaster, you can:
 We can help restore data to your own servers
 Offer loaner servers or help you deploy to a cloud solution (AWS,AZURE)
 Provide a VM images or Hyper-V Image
All your backup needs are covered:
Offsite backup for physical and cloud servers
AES 256-bit end-to-end encryption
Online, real-time reporting of backup status
Managed or self-serve file level restoration
Choice of multiple daily backup windows
Automated daily data integrity validation
Deduplication for optimized backup windows
Managed backup failure resolution
HIPAA, PCI, SOC 2 and Privacy Shield audited