What Are Managed IT Services?
If you are a small or medium business owner who wants to grow, managed IT services can be the golden ticket you are looking for. Keeping up with information technology tasks on your own can take up a lot of time and precious resources, and it's all too common to find yourself in over your head. That's where managed IT services come in!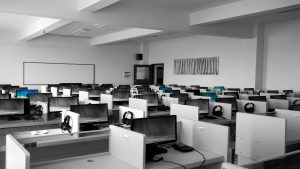 Managed IT services aim to tackle various information technology tasks. From ensuring that your business is running the most current software updates to ensuring that your company's website is up and running smoothly, your managed service provider will have you covered.
In most cases, small to medium businesses prefer to outsource their IT management to a professional team. This helps cut IT expenses, improve operations, and free up time so you can get back to business.
What To Look for in a Managed IT Service Provider
The best managed IT service providers will be able to offer you a suite of options and help you determine a plan that is ideal for your business. Here are some of our most popular services as a managed IT service provider in Central Kentucky:
One of the most essential features of a managed service provider is help desk support. This includes monitoring and maintaining network equipment and servers. If your system's functionality begins to slip, our team will swoop in and save the day.
The best managed IT service providers will be able to customize your cloud services to suit your business's needs. The cloud is a great way to take your IT and business operations to the next level. As experienced IT service providers in Lexington, KY, we offer all the cloud options your business needs to thrive.
At Lexington Computer Support, we know that any file or document is at risk of being wiped away so long as it only exists in one location. That's why we offer off-site backup services to ensure that your data is protected against hard drive malfunction or computer viruses.
A stellar website is essential to growing a successful business, whether small, medium, or large. Our experienced and creative web designers will provide you with a functional, user-friendly website that suits your brand.
When you choose us as your managed IT service provider in Central Kentucky, you will gain access to our licensed repair technicians, who are always ready to keep your on-site systems running smoothly. We also provide routine maintenance so you can enjoy optimal speeds according to the newest updates.
In today's world, online security is everything. That's why we put a lot of value on our networking and data security services at Lexington Computer Support. After your free on-site consultation, we will provide you with a service suggestion suited to your business's needs.
Does Your Business Need Managed IT Services?
Lexington Computer Support is the premier managed IT service provider in Central Kentucky and the surrounding area. We work hard to ensure our clients receive the best technical support according to their business's needs. Our staff holds decades of experience and is devoted to providing you with technology that is effective and affordable. Contact us today for a free network consultation!